Cutting Mills for comminution of soft to medium-hard, brittle, fibrous, tough, or temperature-sensitive materials as well as plastics and for preparation of heterogeneous mixtures. The samples are precisely size reduced or deagglomerated by pass-through cutting and shearing mechanics, in some cases combined with a cyclone separator. The milling system configuration and sieve cassette determine the final fineness. Various knife geometries and replaceable blades ensure maximum flexibility and durability as your sample materials and needs change. Through-put milling technique ensures material integrity and allows for automated feeding control systems to be added. Cutting tools of various steel types as well as of hardmetal tungsten carbide can be used for abrasion mitigation.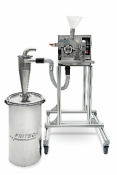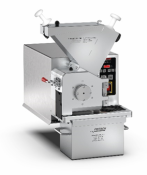 PULVERISETTE 19 & PULVERISETTE 19 LARGE
The Universal Cutting Mill PULVERISETTE 19 for comminution of dry, soft to hard, tough to brittle, fibrous as well as temperature-sensitive materials. Variable speed adjustment on two models with 300-3000 rpm or 50-700 rpm allow control to achieve fast and effective pre-milling, de-agglomeration, and fine comminution. The sample material is reduced according to the cutting principle of scissors, quick successive interactions of sharp rotor edges, past the fixed counter knives, before passing the sieve cassette at the bottom of the chamber. Final particle size is determined by the selection of the sieve cassette size, material properties, and system configuration. High throughput milling of food, feed, agricultural materials, metals, electronics, secondary fuel wastes, and more.
The PULVERISETTE 19 LARGE is our powerful Universal Cutting Mill for fast, reproducible comminution of hard, tough-elastic, temperature sensitive materials, and plastics. Expanded material handling capabilities with a feed size of 120 x 85 mm, plus increased chamber and cutting surface areas. The solution for all cases where thermal damage, the loss of highly volatile substances, or an excessively high fine share need to be avoided. This mill is also ideal for RoHS tests and secondary fuels.
With the instrument design and the materials used, it is possible to commute pre-cooled materials or samples embrittled with liquid nitrogen in the cutting mills. This improved breaking behavior enables efficient comminution also of sticky, tough-elastic or temperature-sensitive materials with dry ice or embrittlement of the sample with liquid nitrogen.
IDEAL FOR:
Pharmaceuticals/Plastics/Textiles/Agriculture/Forestry/Environment/ROHS/Analytical/Construction Materials/Automotive/Chemistry/Biology/Food Stuff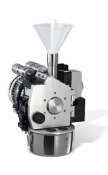 The Cutting Mill PULVERISETTE 15 for comminution of dry sample materials with soft to medium-hard consistency, for fibrous materials or cellulosic materials, as well as for sample preparation according to RoHS with a feed size of 70 x 70 mm and a throughput quantity of up to 50l/h. The cutting rotor ensures a high air throughput, fast processing and reproducible results.
IDEAL FOR:
Plastics/Textiles/Agriculture/Forestry/Environment/ROHS/Analytical/Construction Materials/Chemistry/Food Stuff
FREE SAMPLE SUBMISSION AND APPLICATION REVIEW
Send us a sample submission to find the perfect mill for your application.
FRITSCH offers a wide selection of high-performance mills in various product groups for every application and every specific need:
Planetary Mills, Ball Mills, Cutting Mills, Knife Mill, Rotor and Beater Mills, Jaw Crushers, Disk Mills and Mortar Grinders.
Click to download submission form.