Analysette 22 NeXT LazerSizer
ANALYSETTE 22 NeXT – is a Particle Size Distribution Analyzer using Laser Light Scattering. Built in accordance with ISO 13320 Standard. The ISO 13320 (Particle size analysis – Laser diffraction methods) defines as a guideline the minimum standards for Laser Particle Sizers regarding repeatability, reproducibility and measuring precision and thus regulates the verification of the measuring results.
New design and optical setup of the ANALYSETTE 22 NeXT are ideal for efficient particle size analysis in production and quality control as well as in research and development or for controlling manufacturing processes. Two new models are available based on your measuring range requirements.
Short measuring times, especially high measuring accuracy
Automatic laser beam alignment completed in seconds
Consistent reproducibility, reliable results
Solid and low-maintenance with few moving parts
Easy operation, quick and residue-free cleaning
Modular, Compact, space-saving design
The ANALYSETTE 22 NeXT Micro, with one light source and one detector, measures robustly and reliably from 0.5 to 1500 μm.
The ANALYSETTE 22 NeXT Nano expands the lower measurement value by the intelligent arrangement of an additional detector system. This makes the recording of even larger scattering angles down to 0.01 μm possible in sideward as well as backward direction. The upper measurement limit is increased at the same time to 3800 μm.
Get all the decisive advantages with the model that meets your requirements: especially easy operation and cleaning, short analysis times, reliably reproducible results and the recording of additional parameters such as temperature and pH value during wet dispersion.
ANALYSETTE 22 NeXT is developed according to a smart modular concept. You only buy what you really need. Therefore, you can flexibly grow with your sizing tasks. Modules can be added to at any time, and we are constantly developing the portfolio. We offer a dry and wet dispersion unit. In addition, you can choose an ultrasonic box, a pH probe, conversion kits for extreme chemical resistance, exhaust systems, compressor, reference materials, certificates and spare parts.
For most samples, wet dispersion represents the ideal method of preparation for particle size measurement. For this reason, we offer a new innovative design. Powerful, flexible and modular wet dispersion system. The liquid volume is adjustable between 150-500ml. The unit is completely without valves with no dead space in measuring and rinsing circulation system providing a superior cleaning and circulation process.
A pH and temperature probe is offered for continuous monitoring of the pH value of the dispersion liquid – covers fluctuations much more effectively than the zeta potential.
For working with extremely aggressive chemical dispersion liquids, order the wet dispersion unit with the conversion kit Extended for extreme chemical resistance.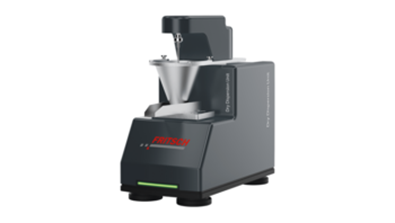 Automatic dry dispersion unit for sample volumes from less than 1 ml up to approx. 300 ml – especially suited for free-flowing materials.
The ultra-compact dry dispersion unit has a height-adjustable funnel and stirrer made of stainless steel ensuring optimum sample feeding adapted to the respective sample material. All parts that come into contact with the sample can be easily dismantled – thus guaranteeing absolutely fast and easy cleaning. Also, the measuring cell of the ANALYSETTE 22 NeXT can be opened without tools by means of an eccentric lock. Its cleaning is quite convenient by an easily re-insertable outer seal. And also, the exchange of the measuring cell glasses can be done any time completely uncomplicated.
In dry measurement the sample material is transported with a vibratory feeder through the intake funnel into the dry measuring cell, where it falls directly into a Venturi nozzle operating with an adjustable flow of compressed air. Upon passing through the nozzle, agglomerates are broken up and the measurement of the particle size dispersion in the laser beam takes place directly afterwards.
INNOVATIVE pH MEASUREMENT WITH THE ANALYSETTE 22 NeXT
As the first supplier ever, FRITSCH has now developed a way to measure the pH value of the dispersion liquid almost directly in the measuring unit. The new pH sensor is installed as a module in the dispersion bath and connected to the Laser Particle Sizer. It continuously measures the pH value during the measurement and automatically transfers the determined values to the software for documentation. This method covers fluctuations much more effectively than the zeta potential and offers many advantages, especially in the area of research and development. The pH value is much broader, especially with measurements in the field of nano-suspensions. Its monitoring provides valuable information about how and when a chemically inert material, for example, reacts to alkalis, depending on the environment. If the curve is unstable and varies during measurement, the pH value helps with stabilization and interpretation. The pH measurement process now introduced by FRITSCH means these values can be observed precisely. The detection of agglomeration or aggregation is also much easier.
For dispersion with ultrasonic with max. 50-Watt ultrasonic output. If you measure sample material frequently that tends to agglomerate, you can equip your ANALYSETTE additionally with a powerful ultrasonic box which is simply inserted into the sample circulation system. It allows for an even finer adjustment of the wet dispersion to the respective sample material and operates extremely quietly with less than 45 dB.
Reference Materials and Certificates
To inspect your Particle Sizer to ensure proper function, various reference materials can be used for a reliable check of the system. The reference materials offered by FRITSCH are delivered along with precise dispersion and measurement instructions and are accompanied by a certificate containing the upper and lower limits of the expected particle sizes. These limit values were determined using an internationally recognized process (NIST-traceable).
PRODUCT VIDEO, Webinar & Report
FREE SAMPLE SUBMISSION AND APPLICATION REVIEW
Send us a sample submission to find the perfect mill for your application.
FRITSCH offers a wide selection of high-performance mills in various product groups for every application and every specific need:
Planetary Mills, Ball Mills, Cutting Mills, Knife Mill, Rotor and Beater Mills, Jaw Crushers, Disk Mills and Mortar Grinders.